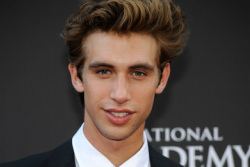 Montecito Union graduate and Santa Barbara High School "Music Of The Night" co-creator Blake Berris is about to become a daytime soap opera star. He recently signed a four-year contract to appear as the handsome but nerdy genius Nick Fallon on NBC's "Days Of Our Lives" (1 pm daily).

"Think Napoleon Dynamite," Blake says during a telephone conversation from his home in Westwood. "Nick Fallon is new to Salem ," he explains, "and is a genius, a brainiac. And, he's really dorky," Blake laughs. "When I went into the first audition," he continues, "I went in like really, really geeky-looking. I went all out. People were looking at me, like, 'Are you from L.A. ?' I just walked in with a smile on my face and was ready to go."

Casting Director Fran Bascom liked Berris's presentation, however, and called him back the following week to meet with the producers of the show. She did ask him, however, to play the character "not quite so geeky," and so he will, beginning with his first appearance on Tuesday, November 7.

Blake attended Montecito Union School (and Montessori, when it met at MUS, before that) from kindergarten through sixth grade, and attended SBJHS and SBHS. At Santa Barbara High, he, along with Evan Hughes (Blake's UCLA roommate who recently won a Music Academy-sponsored opera recital in New York City), Portia Burton, and Ashley Rogers, co-founded and co-created "Music Of The Night," which has become an annual talent showcase ever since. This past year, Blake's sister Riley Berris was one of the (still four) directors of the popular musical revue.

Before filming the series this fall, Blake spent the summer in Oxford , immersed in a Shakespeare program. It was something, he says, that prepared him perfectly for the amount of memorizing required for his new job. "Days Of Our Lives" began filming the week of October 9, and Blake works a five-day week. "It all depends how much of the storyline" he's involved with that week, he says. He says he gets the script "at least a day before, sometimes earlier."

Now that he's found steady work, he chuckles, he will probably buy a new car. He sold his '88 Toyota Camry before leaving for Europe, he explains, and when he came back had to borrow his sister's car and "was essentially living out of it" until his apartment became available.

The things he remembers most about his school days in Montecito? "The cool thing to do was to go to the Wine & Cheese Shop in the Upper Village after school. I remember playing on the huge map of the United States in the [MUS] playground, and music class with Pam McClendon. I also had the good fortune," he says, "of having her husband, Phil McClendon, in high school."

Blake and another Santa Barbara friend, Hannah Utt, are part of a theater group that started at UCLA; they have three productions slated for this year. Blake wrote one of them, "a drama or dark comedy" called "Privilege" that he hasn't finished yet.

That Blake may become a daytime star will probably come as no surprise to his show-biz parents. Dad, Ken Berris, was a creative director at an ad agency before turning to directing, whereupon he created more than 500 television commercials. As writer-director-producer, Ken is a pioneer in the interactive film business. "Spycraft," made nearly 10 years ago, was made with the direct cooperation of former CIA director William Colby and ex-KGB head Oleg Kalugin. Ken also produced "Pinocchio" with Martin Landau and Jonathan Taylor Thomas. Blake's mom, Lauren Berris, is a freelance writer, has worked as costume designer and stylist, and serves on the board of the Marjorie Luke Theatre .

Montecito Journal
http://www.montecitojournal.net/archive/12/22/431/